"Dirtbag Millionaires"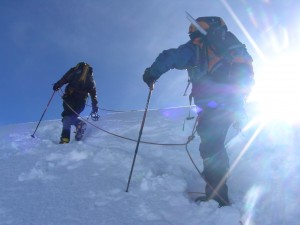 Throughout our adult lives, we've floated back and forth weekly between two parallel universes.
The "Dirtbags"
We are very active in a number of outdoor activities.  Every weekend we would head out into our circle of friends involved in these activities.  Most people we know are weekend warriors like ourselves.
However, there are a few that get the guts and take the plunge to live this lifestyle full time.  They are the "dirtbags" (or winter version, "ski bums").  They choose to pass on most of the creature comforts of the "normal" American lifestyle.  Instead they choose to pursue their passions; climbing, hiking, biking and skiing daily.
They take on odd jobs out of season or maybe try guiding to make enough money to scrape by.  It is not uncommon for these folks to live out of their cars or bounce from couch to couch.
This lifestyle always fascinated us.  These people are idealists.  They are totally living for today.  They're fully committed to doing what they love in life.
They are also always one small step from disaster.  Most of these people have little to no savings.  Most eat whatever they can and drink crappy beer.  They are often uninsured.  An injury, an illness, a pregnancy or even a car breaking down could send things cascading over the edge.
Our little bit of financial success has made us a bit fat and lazy.  We like to go home to a hot shower and a comfortable bed.  We enjoy eating quality food and on occasion drinking good beer and wine.  So we return every Monday to our parallel worlds.
The "Millionaires"
Every week, from Monday through Friday we go to work.  Here we interact with professionals in a variety of different fields.  They almost all live a similar lifestyle.
They are high wage earners, but most also are spenders.  They dress well.  They drive fancy cars.  They live in expensive homes.  They take extravagant vacations and some own second homes.  Many are country club members.  They subsidize their kids for prolonged periods of time with private schools and expensive colleges.  Their careers define them.
We don't know any of their financial details, but we do know that nearly all work until the traditional 65 years old retirement date or even beyond.  I'm sure at least some are true millionaires or even multi-millionaires.  They think they don't have enough money to support them if they didn't work.  Because of their spending patterns, they're probably right.
Few seem truly happy or fulfilled.  We always knew we didn't want this lifestyle.
The Worst of Both Worlds
So we got to talking.  We know many people who combine the worst of both groups.  They get caught up in our consumer culture and spend excessively, trying to buy their way to happiness.
They end up living with little financial security, always one step from disaster (the downside of being a "dirtbag").  At the same time, they spend their whole lives, 40, 50 sometimes 60  hours per week for 40 to 50 years, fueling this lifestyle by working in professional jobs that offer them limited fulfillment or satisfaction in life (the downside of the professional lifestyle).
"Dirtbag Millionaires"
What if we could flip the script?  What if we could find a better way, combining the best of both worlds.  I even coined a term for this, "Dirtbag Millionaires".
We wouldn't be true "dirtbags".  We wouldn't necessarily need to be true "millionaires" to support our simple lifestyle.  But we would try to embody the best of both groups.
We would work more like the professionals for a short time, but live more like the dirtbags.  We would avoid the unnecessary spending that has come to be the norm for the average American.  In doing so, we could live well below our means.
We would adopt the "dirtbag" mentality of spending as much of our time and energy as possible on the things most important to us.  These things were initially developing our relationship while seeking adventure, traveling, and achieving financial independence.  More recently we have added our daughter to the top of this list.
At the same time, we'd work hard at our professional jobs, earning far more than we needed for our lifestyle.  We would avoid as many of the typical status items as possible, instead putting all extra money toward appreciating assets that would support us for the rest of our lives.
How It Works
We decided first to pay off our debt (school loans and a car loan) as quickly as possible and avoid all future debt except for a reasonable mortgage.  We'd limit wasteful spending on things not important to making our lives better.
We have never financed another car.  We avoided buying expensive shoes, clothes and accessories.  We developed a habit of not exchanging Christmas or birthday presents.  We avoided getting caught up in having the newest and best gadgets and electronics.
I have no jewelry except the same watch I bought in college and my wedding ring.  The Mrs. wears very little jewelry and for special occasions has a few pieces of cheap costume jewelry and some old family pieces.
My wife cuts my hair with a pair of clippers we got from Wal-Mart.  She gets her hair cut about once every 1-2 years to donate to "Locks of Love".   She has never had professional manicures, pedicures, etc.
While traveling we live like the dirtbags, sleeping in tents, cars, or on friend's couches as much as possible.  Instead of throwing away money and wasting time in fancy hotels, we spend as much of our time as possible experiencing the places we visit.
Each of these things, while  fairly insignificant on their own, began to add up and then compound. We found that prioritizing in this way, we were spending much less than our professional peers.
Because we were doing the things we truly wanted, we never felt like we were sacrificing anything.  In fact, because we avoid this waste we live even better than most.
We have a really nice home.  We eat and drink what we want.  We have traveled extensively domestically and internationally.  Our active lifestyle provides inexpensive activity and helps us maintain excellent health.
I have negotiated away pay increases for increased vacation time.  My wife has already cut back to part-time work.  This gives us more time than most for our child while having time to maintain an active and healthy relationship.  We'll be able to retire when others are trying to figure out how to pay off school loans or make a dent into the principle on their mortgage.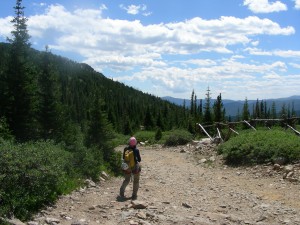 Why It Works
There is a big difference between living your values while avoiding waste and making great sacrifices.  Understanding this is the first key to achieving early financial independence and being able to retire early.
Most people think achieving financial independence involves great sacrifice to simply live within their means.  They don't bother to even try.  They think it is not possible.
The option of early retirement doesn't even enter the minds of most people.  The popular notion is that it is hard to make ends meet, regardless of income, and many simply accept this as fact.
Most people ignore the waste in their lives on a daily basis.  They look at budgeting and financial planning like going on a crash diet, which works for a short time but is not sustainable.  Nothing could be further from the truth.
Any middle class American could easily replicate what we're doing by making similar decisions.  By avoiding the mistakes we've made or living less extravagantly than us, you could even do it in a shorter amount of time and/or do it with considerably less income.  There are also many people who earn more than we do and could easily follow our path while still leading fairly lavish lifestyles.
And what about those of you who think you can't do it because you earn less than us, started with more debt, or _____________.(Fill in you own excuse here)  You simply have to work (for a while) like the "millionaires" while learning to think and live like a "dirtbag".  Keep reading, we'll show you how.
*Thanks for reading. If you enjoyed this content, you can find my current writing at Can I Retire Yet?. Enter your email below to join our mailing list and be alerted when new content is published.