I Wrote a Book!
In theory, retiring early should free up a lot of time to work on your early retirement blog. Well, it's been 477 days since I last posted here. Sorry, I've been busy.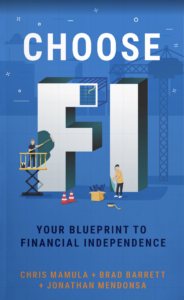 Today I would like to share one of the things that has kept me so busy over the first year and a half of my early retirement. I wrote a book!
After months of writing and editing and writing and editing and . . . well you get the idea, today I finally get to reveal that I've been working with Brad and Jonathan and their team behind the ChooseFI podcast to create a book.
I wrote a full post about this project at Can I Retire Yet?.
You can get more details by listening to us talk about it on the ChooseFI podcast. We discuss how we ended up working together on this project, why we're so excited about it, and where and when you can find it.
If you haven't yet,  enter your email in the box below to follow me at Can I Retire Yet? where I continue to write a couple times a month.
Cheers!
Chris