October Update// Entering The Home Stretch!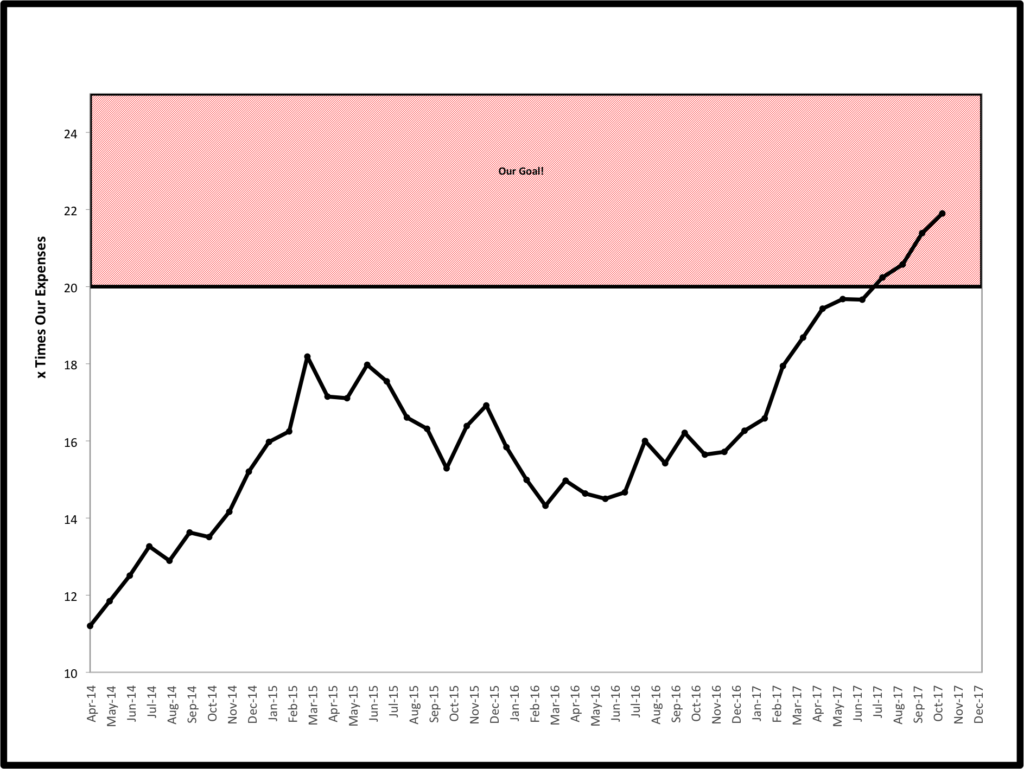 We're not going to spend much time on the numbers. The graph speaks for itself. Things continue to look good, with assets as a multiple of our annual spending up from 21.39 to 21.90 over the past month.
The Final Month of Work
As long time readers know, I quit my job back in late February. However, that was more a matter of me getting things out there. The idea of keeping secrets and trying to maintain blog anonymity was becoming far more stress than it was worth. There was no definite end date to my employment.
Since then we have bought the house in Utah and our plans continued to materialize over the summer. December 1st became my "official" last day. Even that was "official" instead of official, because I have continued to discuss the idea of staying on to do some part-time work until we make the move.
Taming the Donkey
We shared in our ultra-safe early retirement plan that we are looking to develop redundant, sustainable income streams in retirement. Staying on part-time with my current employer is one of many ideas/plans that has been floating around in my "donkey" brain. Among the others that I have been considering:
Experimenting with part-time physical therapy work in a different setting.
Trying a rotation as a traveling PT to see if I like it.
Exploring using my PT skills outside of a traditional setting (disabled athletes, adaptive skiing, etc).
Growing and monetizing this blog.
Writing a book.
Seeking more freelance writing opportunities.
Taking a deep dive into educating myself on real estate investing.
Taking a hobby job such as ski patrol.
We discussed our plans in more detail with our small mastermind group of similar couples in early August. Having that talk has led my wife and I to have some great ongoing conversations since then.
We realized that while FIRE gives many options of things that we can do, we still need to decide what is important and what we really want to do. If we are not careful with how we use our time, we could very easily become busier than we were when working. And we wouldn't even have the income to show for it!
My First FinCon
This past weekend, I attended my first FinCon in Dallas, TX. I went in wondering if being a blogger/writer could and should be a focus of my life going forward, or if this was just a hobby. I came out with a new confidence, focus, and commitment. Exactly how and where I will be directing that focus will be shared in a separate post very shortly.
For now, what I will tell you is that the first thing I did Monday morning was tell my boss that I will be completely done December 1. The next month will be spent tying up loose ends at work, while organizing to start a new phase of life.
The initial conversation with my boss back in February was scary to initiate and produced mixed emotions. Buying a house across the country this summer was terrifying and stressful as things became very real. Now that things are finally falling into place, I have found a peace and excitement that I have not felt in a very long time.
The Home Stretch
Trying to maintain the pace of being a full-time physical therapist, writing this blog, doing my freelance writing, teaching a rock climbing class, being present and involved as a father and husband, and maintaining my health and fitness has been exhausting.
Over the next month, I plan to focus on figuring out what I want my day to day life to look like when I wake up on Monday, December 4th. For the first time since I graduated from physical therapy school in June of 2001, I won't have a job that I have to go to.
I cherish that freedom and space in my life. It has been something I've worked towards for years.
However, I also know that having some structure is a good thing for me. I find that when I wake up at 4:45 in the morning and know that I only have two and a half hours before having to get out the door to go to work, I rarely miss a workout or a writing day. However, when I have a (rare) entire free weekend, I easily manage to do nothing productive.
I want to find balance, where I am living a productive but not busy life. I'm sure it won't be perfect, and at times will be downright ugly. I'll be sure to share it here and am curious to hear what has worked for others who have made the transition.
A Bit More About FinCon
I am not going to write a full recap of FinCon. Many others have already done it and I am not sure what I can add that has not already been said, other than if you are a blogger or aspiring to be one you should drop the couple hundred bucks and go to Orlando next September. It is really a great conference. If you are hungry for more info about what FinCon is all about, here are links to a couple of bloggers that I regularly read that have shared their experiences.
And a couple of bloggers I didn't previously know well, but got to have great conversations with about skiing, kids, skiing with kids, and other general life stuff.
And finally a blogger I didn't know at all before FinCon, and now I'll never forget. (Do yourself a favor and read this one!)
Have a great month and share your thoughts in the comments below.
*Thanks for reading. If you enjoyed this content, you can find my current writing at Can I Retire Yet?. Enter your email below to join our mailing list and be alerted when new content is published.