As Seen On…
The EE has been around the web!  Check out the links below to see where we have been sharing our story.
Daily Finance Article:  "This Couple is Set to Retire at 40" (Posted 5/21/2015):
This article was written by Rob Berger (Dough Roller) and posted on dailyfinance.com.  It's a summary of how we plan to reach our goal of early retirement by age 40.   Read the article here: This Couple is Set to Retire at 40.
---
Interview with Rob Berger of the Dough Roller (Aired 4/13/2015):
In this interview, I discussed how basic, but key moves have led us to plan on retiring by age 40, even with making plenty of mistakes and living a great lifestyle.
Podcast: DR 171: How to Retire at 40 – Interview With Chris of Eat the Financial Elephant
My follow up post: Can You See the Forest?
---
Guest Post on White Coat Investor (Posted 03/25/2015):
I was fortunate to be able to guest post on WCI's popular personal finance website that is geared toward physicians and high wage earners.  My focus was on financial advisors and how not to be suckered into losing a significant amount of money by using them and often times getting bad advice from them.  WCI's readers were not all on the same page as me, but that led to some interesting comments and great discussion.
Guest Post: Do Not Be The Sucker
My follow up posts:  Financial Elephant Around the Web:  The White Coat Investor and The Worst Investment Advice I've Ever Heard Everywhere
---
Post Referenced on JL Collins' "Stock Series":
In one of my posts on DIY Investing, I reviewed JL Collins' "Stock Series".  This was an invaluable source for us when we started down the path of DIY investing, and we wanted to share it with everyone.  Mr. Collins incorporated my review into an introduction to his Stock Series.
My post on the "Stock Series":  DIY Investing Resource #1:  JL Collins' "Stock Series"
---
Interview with Joshua Sheats of Radical Personal Finance (Aired 11/6/2014):
The topic for this interview was that you do not have to live an extremely frugal lifestyle to achieve financial independence.  It focused on how we are just normal people, yet with the right key moves, we will be able to retire very early and be financially independent.  The interview also led me to discussing our bad experience with our financial adviser and led to good discussion around that.
Podcast: An Ordinary Pursuit of Financial Independence: Interview with Eat The Financial Elephant
My follow up post: EATTHEFINANCIALELEPHANT.COM  featured on the Radical Personal Finance Podcast!
---
Posts Featured on Rockstar Finance:
A few of my posts have been picked up by Rockstar Finance.  This website brings together "a collection of awesome money articles"  from around the web.
A Non-Expert's Guide to Early Retirement
Your Attitude is More Important Than Your Paycheck
Earn a Masters Degree in Financial Independence While Driving to Work
---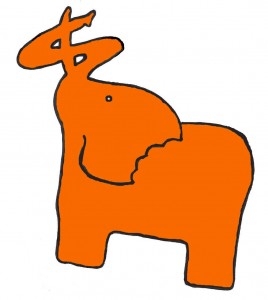 Sign up to receive our posts!