How We Manage Financial Risks
I love to write about our outdoor experiences and share how they've shaped our philosophies on life and finance.  Our first post that went a bit viral and still seems to resonate most with our readers was "Dirtbag Millionaires".
Since then, some of the more popular posts have continued on that theme.  These include our guest post swap with our outdoorsy friends at Our Next Life.  They compared their path to FI to climbing mountains and I wrote a guest post on their site about the importance of traveling light in the outdoors and in life.  More recently, I compared our home stretch to FIRE with the mountaineering concept of "Failing Upward".
Based on our love of climbing, skiing and mountaineering and our plans to retire by age 40 with a young child, you may think that we are big risk takers.  You would be wrong!  In finance and in the mountains, we look at ourselves as being extremely conservative and risk averse.  Today, we will share how we have and will continue to apply a climbing concept for risk management to our finances.
Redundancy
When climbing or repelling, you must trust that your rope is anchored in a way that it won't fail when it is holding forces equal to or much greater than your body weight.
What you are anchored to (i.e. into the rock face, large boulders, trees, etc) and each component of your gear SHOULD be strong enough to withstand the loads placed upon them.  This is comforting until you load the rope.
Without being overly dramatic, failure of your anchor will likely result in serious injury or death.  "Should" isn't good enough.  You want to know that your anchor will not fail when you need it.
The solution is to make the anchor redundant.  In a properly designed redundant system, if any component fails the remaining components should still form a completely independent system that will not fail.
Compare the two photos.
The anchor in the first photo SHOULD support a falling climber or person on rappel.  However, if any one component fails, it is game over.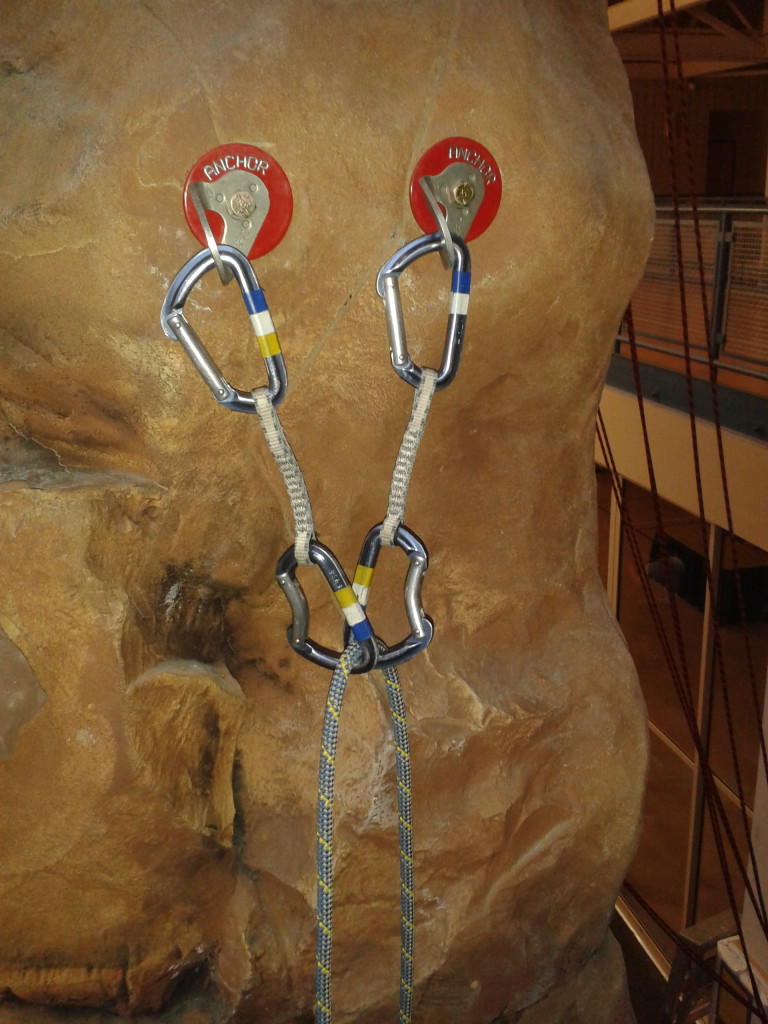 A proper redundant anchor will look something more like the second photo.  Notice that with the redundant system that if any single attachment point with the bolts, any single carabiner, or any of the nylon components failed, the system would still work.  You are simply left with the original system shown in the first picture.
Redundancy While Building Wealth
I would love to say that we are a couple of revolutionary thinkers who had this master plan to save 50%+ of our income to retire early on a particular date or by a particular age.  However, it isn't quite like that.  Actually it wasn't like that at all.  We stumbled into our system accidentally.
Mrs. EE finished up school a year ahead of me with a small debt (school and car loans) and a starting salary of about $35,000.  We were getting ready to get married and talking about our future finances.  We agreed to have her support us completely off of her salary for one year.  I would use all of my much smaller income earned working part-time to try to get us debt free by the time I graduated and we were married.
Our plan worked.  We started our married lives together debt free. We were then also making two very similar professional salaries.
We now had decisions on how we wanted to spend our money.  We decided to continue to live off of only one salary and bank the other so we would never miss it.
Why Save So Much?
We didn't start saving 50% of our money to retire by age 40 or even 50 or 60.  We were young and excited about our new, interesting careers.  Honestly, retirement was the furthest thing from our minds.  We started saving 50% of our income out of fear.
I grew up watching my parents constantly working their butts off in their small business to support our family.  We weren't rich by any means, but we also never really wanted for anything.  However, time was always at a premium.  Our vacations were day trips or if we were lucky a long weekend.  Most weekends were spent working.  I wanted something different than having my life revolve around work to make ends meet.
Mrs. EE grew up with 3 siblings in a two working parent home.  Her childhood was spent in a lifestyle of living paycheck to paycheck, and often a few paychecks behind.  They at times relied on assistance for the basics.  Her brothers still jokingly recall their fondness for "government cheese".  Even now, many of her thought processes are based in fear of ever returning to that lifestyle.
As we were establishing ourselves, we realized we could continue living comfortably off of one of our professional salaries.  We knew we could "afford" to spend much more, but that would make us vulnerable.  If one of us lost a job, had health issues or if we had an emergency with great expenses we would be in trouble.
We didn't have an early retirement plan or even think extreme early retirement was really possible.  However, we knew we wanted a more secure and comfortable financial situation than the ones in which we were raised.
Redundancy was our solution (even though at the time we didn't call it that).  We continued to live this way without ever really paying much attention to how much we were spending or saving.  We  simply liked the feeling of security it gave us.
It also allowed us to live without any type of strict budget.  If an opportunity came up like traveling for a skiing or climbing adventure with friends, attending a Super Bowl or taking a big international trip, we did it.  We had so much excess in the system that we could take advantage of opportunities to do some amazing things without feeling any financial pain.  If something major unexpected happened like Mrs. EE finding out she was pregnant after 10 years of marriage when we thought it was impossible and didn't plan for it, it was not a big deal financially.   We could weather any financial storms with little stress.  This is something we want to continue into our early retirement.
Redundancy In Early Retirement
Most people that we have read in the FIRE community talk about working until they have at least 25X their annual expenses and assume that they will be able to withdrawal 4% of their portfolio, with minor adjustments as needed.  Simulators based on past data will tell you that with a reasonable asset allocation, this will give you a greater than 90% chance of success defined as never running out of money.  But what if with current high valuations and horribly low interest rates, this is one of those times it is not successful?
What if one of us develops a serious medical condition and we greatly underestimated our health care costs?  What if, even if we are healthy, health insurance premiums continue to skyrocket?  What if in different political times ACA subsidies go away causing premiums to eat up 25% or more of our budget each year?
What if we simply decide that we want to spend more for something really good and important.  What if there is another surprise pregnancy?  What if we got serious about adopting a child as we have talked about for years but have never pursued because we haven't had the time to do it?  Or what if we simply want to indulge if an opportunity to do something really cool or amazing presents itself but it is not in our budget?
The answer to all of these questions, in our minds, are to continue to have multiple streams of income that are redundant.  This means that they are completely independent of one another and under ordinary circumstances would support all of our spending.  If all goes well, we will simply grow our wealth in retirement and have extra money to do good things for others.  If anything unexpected happens, we will continue to be able to roll with the punches without having to worry about it.
How Will We Actually Do It?
I know that many of you are thinking that sure this is a great climbing concept where you sacrifice at most a few minutes to build another anchor or even seconds to clip another set of bolts.  But how would we ever create an entire second, independent, fully redundant income stream when it has taken over 15 years to get to financial independence?
The short answer is that we think it won't be all that hard.  Since this post is getting long, we'll make that question the topic of our next post.
Until then, I'm curious to hear how others think about the transition to early retirement.  Are you concerned about the psychological effects of going from having a large savings rate to spending down your investments?  Are you concerned with having to live on a budget or are you unlike us and used to making and following a strict budget?  Are you comfortable with your plan's ability to address the scenarios I've outlined and any others specific to you?  Are we being too conservative?  Please share your thoughts below.
*Thanks for reading. If you enjoyed this content, you can find my current writing at Can I Retire Yet?. Enter your email below to join our mailing list and be alerted when new content is published.