September Update
A Good Month (In Many Ways)
September was a great month! The weather is turning cooler and the days are getting shorter. While we will miss our summer pool time with little EE and extended hours of daylight after our workdays, the fall is our favorite time of the year in the northeast. There is less heat, humidity, and bugs and more colorful leaves, fall festivals, and football. We have been getting outside hitting the trails and crags. We also had two awesome road trips this month (much more on that below).
As for our financials, we saw a nice little uptick in the graph putting our assets at 16.3X our annual spending which marks our highest point for 2016. Our assets were up 1.11% from last month due to small market gains, continued automated contributions, and receiving quarterly dividend payments. Our spending dropped by $200/month despite our travel expenses. This is mostly due to our expenses having been artificially inflated last month due to the way we track spending based on a 12 month rolling average. This August we paid ahead some annual expenses which were still "on the books" from last September and now have come off.
Looking For a Mountain Town
Mrs. EE and I have been scouting out landing spots in the mountain west for our early retirement. Our wish list includes the following attributes:
We want to live in an outdoorsy mountain town that matches our interests and personalities, which our current small town lacks.
We want to have access to skiing, hiking and climbing all less than 30 minutes from our home, ideally living directly in a mountain town to give us optimal access.
We want convenient access to travel. Traveling occasionally is a stipulation for Mrs. EE's job which she plans to continue indefinitely. Also, we want to be able to visit our family back east and have them visit us.
We are looking for a neighborhood/small town setting in which to raise our daughter.
The final want is the biggest challenge giving the first 4 items on our wish list. We would like to find a small, but nice home for the same price or less than we will sell our current home (<$300,000).
Based on this list, we have narrowed our list to three areas based on extensive internet research. They are:
Driggs, ID home of Grand Targhee Ski Resort and bordering Grand Teton National Park,
Fraser/Granby, CO, home of Winter Park Resort and bordering Rocky Mountain National Park and the Indian Peaks Wilderness, and
Ogden, UT home of Snowbasin Resort and Powder Mountain and in the heart of the Wasatch Mountain Range.
However, while we have been to Jackson Hole, WY and the Tetons, we have never actually set foot in Driggs. While we have spent considerable time climbing and skiing around the Colorado front range, we have never set foot in Fraser or Winter Park. The only place on our list that we have spent any time is Ogden, UT. We therefore took advantage of Mrs. EE having some business in Colorado early in the month as I tagged along for a long weekend and we checked out Fraser and neighboring Granby, CO. Here is our impression.
Fraser/Granby, CO
Positives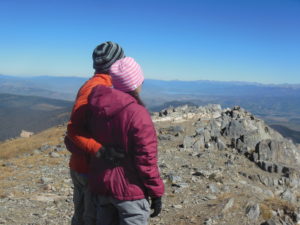 Location: Fraser is essentially at the base of Winter Park Ski Resort and Granby is about a 20 minute drive. Granby also has its own smaller ski area which is dirt cheap and would be great until little EE gets bigger. There are also endless back country skiing opportunities. Twenty minutes on the other side of Granby (40 minutes from Fraser) is the Grand Lake entrance to Rocky Mountain National Park, with endless hiking, paddling and mountaineering opportunities. This gives us immediate access to nearly everything we love to do.
Affordability: Fraser is limited in housing in our price range, but Granby offers very affordable housing opportunities. They also have ridiculously low property taxes compared to what we are used to in PA. We also walked the local grocery store to play a little game of "The Price is Right" to see if everything was inflated as it tends to be in touristy areas. Surprisingly, most things were actually equivalent or cheaper than we are used to paying in our grocery stores. As a bonus, the selection of organic meat and produce was better than we are used to in our current small town.
Neighborhood: Granby has a true small town, non-touristy feel that we want to raise our daughter in. They have numerous well kept city parks and playgrounds despite having a very small population. They also have a very nice, modern library. The public schools are small, but have above average ratings (for what that is worth).
Access: Being 1.5 hours from Denver international airport is not as ideal as we would like, but it certainly gives us the access that we will need for our occasional travel requirements. There is also a train connecting Denver and Winter Park daily year round and multiple times each day during ski season.
Work/Fulfillment Opportunities: In addition to part-time tourism related jobs available in any mountain town, Winter Park offers a very unique opportunity for me. Winter Park is home to the National Sports Center for the Disabled. This impressive organization has numerous paid and volunteer opportunities for me to combine my physical therapy background working with physical impairments and disabilities with my love of the outdoors and passion for helping others. I have already had conversations with some higher-ups in the organization and am confident it would be a great organization for me to be involved with in some capacity.
Negatives
There is little local sport climbing, top-rope climbing or bouldering in the Fraser/Granby area. There is amazing access to everything in 1-2 hours from these locations, but that puts us about where we are now in regards to access. This is a major challenge even currently with the amazing support system we have from our family.
While Granby, and a few neighborhoods in Fraser, have true local neighborhood feels, this is definitely a tourist area. Fraser is far more touristy and expensive than Granby.
The entire Grand County area encompassing Winter Park, Fraser and Granby has a very small population. Aside from Winter Park and Grand Lake tourism, there really is no other industry in the area. If Mrs. EE ever wanted to work aside from her current job or another that allows working remotely, it would likely be very challenging. We also are concerned that there is only one public school for the entire county (located in Granby) that graduates approximately 100 students per year. Small schools have many positives but also present potential limitations if Little EE ends up being substantially above or below normal performance.
Overall Impression
After spending a long weekend hiking, looking at real estate, and picking the brains of as many locals as would talk to us, we were very impressed with this area. While we realize that no area will have everything that we desire, this area and in particular the town of Granby definitely has potential as a future landing spot for the EE family.
Thoughts on Marriage and F.I.R.E.
Last week, Mrs EE and I celebrated our 15th wedding anniversary.We're not big on gifts and big celebrations, but even I'm not so dense as to neglect a milestone anniversary without acknowledging it in some way. So I asked Mrs. EE what she would like to do, and she suggested we just spend a day outside together. And so we did, literally. We hiked the Presidential Traverse on our anniversary day, over 10,000 feet of elevation change in over 22 miles of hiking done in about 12 hours from pre-dawn to just prior to sunset.
I have written a previous post about our most important asset, our marriage. However, this milestone had me thinking more about the impact of our marriage on our FIRE plans.
We are not into telling others how to live their lives. You do not have to adopt our "Dirtbag Millionaire" lifestyle. You do not have to do extreme things together as we tend to do. However, I will share this tidbit of insight that I have gained in our 15 years of marriage, during which time we have also put ourselves in position to achieve financial independence at a very early age.
Life is much better when you have common values, take on common challenges, and share common interests with your significant other. Since money is the most powerful tool in our society, it is intertwined in everything we do. Therefore, those that do not get on the same page with regards to their finances will be challenged in every aspect of their shared life.
How was your month? Do you have any other locations we should consider adding to our mountain town list? Did you experience any exciting milestones, financial or otherwise? Any cool adventures in the past month or on the horizon? Share your thoughts below.
*Thanks for reading. If you enjoyed this content, you can find my current writing at Can I Retire Yet?. Enter your email below to join our mailing list and be alerted when new content is published.