A Bad Investment?
As of Wednesday January 20th, we have skied a grand total of one day this season. Even this consisted of skiing a very limited selection of green and blue groomers on all man-made snow. It seems that winter is skipping us this year.
We buy a season ski pass each March for the upcoming season. While buying in advance saves us significant money, it is still not cheap. So is a season pass a waste? Is it a bad investment? The reason that I bring all of this up is that it provides a perfect real life analogy to what many people are experiencing with the current stock market volatility.
UPDATE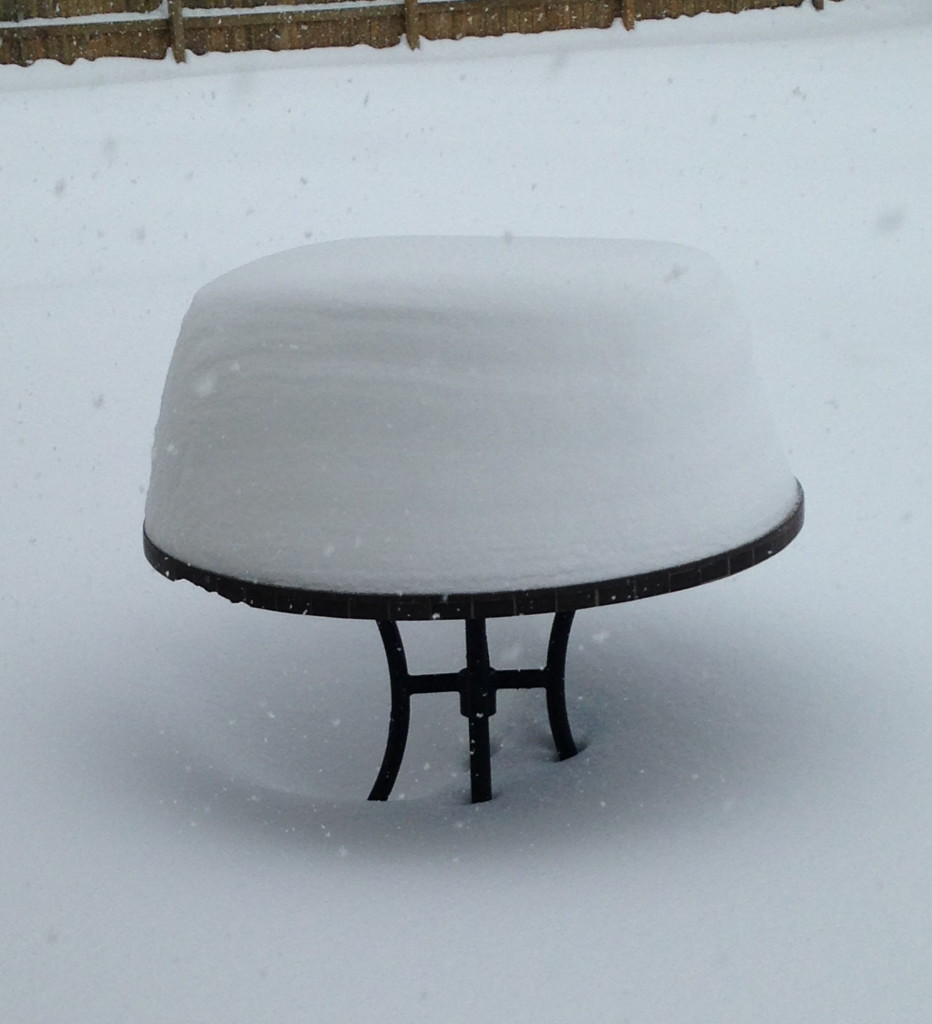 We woke up Saturday with this little one-day deposit from "Jonas" in our back yard, but the remaining message/concept still applies.
Expectations?
We purchase our passes with the assumption that we will ski from mid-December to mid-March (12 weeks). It is fairly common for us to start skiing as early as Thanksgiving weekend and into the first week of April (4-5 additional weeks). We only need to ski 5 times to break even for the season. We generally ski at least one day/week through the season.
Do some quick math and you will see that it is an overwhelmingly smart decision for us to buy our passes in this way. There is a very positive expectancy that we will win in the end because the odds are highly in our favor.
Risks?
That doesn't mean that the decision is without risk. Weather is one risk.  This season may be the first time we lose out.  We have only 1 week left in January, 3 weeks in February (we'll be away one week) and March looking bleak with minimal snow base. Other risks include getting injured on your first day out, illness to self or family, etc.
Making positive expectancy decisions doesn't mean that you will win with every decision you make. However, by stacking many small positive expectancy decisions you can stack the odds overwhelmingly in your favor to the point where success becomes inevitable, despite the risks.
Changing Gears
Let's shift back to applying the concepts of expectancy and risk to our paper investments.  Watching the value of our portfolio plummet can make many people nervous or even sick.  I know this first hand as I listen to my office mate groan and moan every time the markets drop a few more points.
As for us, we have carefully chosen to invest in asset classes that have long track records of providing returns well in excess of inflation. We have chosen a strategy that emphasizes minimizing costs, taxes and behavioral mistakes that could derail us.
We will simply continue to dollar cost average into these investments and rebalance systematically knowing that this further increases our odds of success over time.  Every time something does poorly, we buy more of it knowing that over time those discounted shares have even more potential.
We know in the short term that we may lose.  Some investments may even be losers over the long haul compared to what they have done in the past.  However, by stacking winning bets, we are very confident that we've set ourselves up for success.
Math Over Emotions
Over the next few months we will have some decisions to make.  Do we keep pouring large monthly contributions into investments that are tanking?  Do we rebalance as scheduled and buy even more stocks?  Do we buy another ski pass for the upcoming season?
We're human.  We hate seeing the graphs charting our progress to FI moving in the wrong direction.  We get frustrated looking at bare ground in mid-January when we are desperate for a nice powder day.
However, we know what decisions place the odds in our favor.  We'll keep putting math over emotion.  We'll be buying…stocks and season ski passes.
Do you understand the concepts of positive expectancy and risk?  Do you have a hard time sticking to them when times get tough?  Do you have any particular procedures , methods or tricks to help you avoid making emotional decisions?  Please share your thoughts below.
*Thanks for reading. If you enjoyed this content, you can find my current writing at Can I Retire Yet?. Enter your email below to join our mailing list and be alerted when new content is published.