DIY Investing Resource #5: Sound Investing Podcast with Paul Merriman
When becoming DIY investors, I became a bit obsessed for the better part of a year with learning everything that I could about different investing theories, strategies and techniques.  The amount of information on investing is frankly overwhelming.  I decided to share the resources that most helped us to become comfortable and competent with managing our own investments.
I feel these sources provide comprehensive background information to take anyone from little to no investing knowledge to being able to manage a low-cost buy and hold portfolio of passive index funds that allows you to accumulate money with maximal tax benefits and minimal cost and effort.
Sound Investing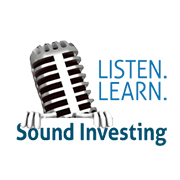 The fifth resource that we want to add to the list is a podcast, Sound Investing with Paul Merriman.  Since retiring from the investment advisory firm that he began, Merriman has dedicated himself to providing free educational materials for every day investors.  His website is full of FREE information and resources including 3 excellent e-books (able to be downloaded from his homepage).  Today, we're going to focus on his Sound Investing podcast.
The great thing about a podcast is that you can listen to them on demand.  This allows you to turn unproductive down time into productive time, as we discussed in the post on "How to Earn a Master's Degree in Financial Independence While Driving to Work".  The difference in this podcast and the others that I reviewed previously is that it is  focused only on investing, making it a good fit with our other DIY resources.
Preaching to The Choir
For those who share our investing philosophy and have read our prior recommended investing resources you will notice common themes.  Paul emphasizes controlling the things that you can, costs and taxes.  He emphasizes using an index investing approach and is committed to helping DIY investors.  The best example of these things is in the episode entitled "10 Big Advantages of Vanguard Funds".
A Deeper Understanding
However, unlike many people that begin and end the conversation with Vanguard, Paul will challenge you to gain a deeper understanding of your investing philosophy and the funds you are invested in.  In the episode "John Bogle's Big Bet"  he takes on the advice of the Vanguard founder.  Another episode that challenged me to look deeper at my own investments is "What's Wrong With Vanguard's Small Cap Value?"
The Performance Series
Paul devotes entire episodes to examining individual asset classes.  He dissects past performance of both the best and worst short-term and long-term periods of different asset classes.  His analysis is very detailed, yet he keeps it simple and interesting enough to follow while listening in the car.  I find these episodes very helpful to gaining a better understanding of what is reasonable to expect in the future.  This increased understanding will make it far less likely that we will panic when one of these worst case scenarios repeat itself in the future as part of normal market cycles.  It will also help us to gain a better understanding of our investments to make more accurate projections of future performance.
DIY vs Advisers
Paul has an unique perspective on the issue of whether you should be a DIY investor or use a financial adviser.  He also has a unique take on retirement.  He built his advising firm which is affiliated with Dimensional Fund (DFA) as a second career after being an early retiree himself.  He started this current mission of providing as much information as possible for free to everyday investors after retiring a second time from his firm.
He is at times a bit of a cheerleader for DFA.  The one weakness of his show in my mind is that I feel he overstates the benefits of using these funds which must be purchased through an authorized adviser.  For example, he states that using a DFA Small Cap Value fund could give a 1-2% advantage over the same fund through Vanguard because the DFA indexes are more pure.  However, I feel that he understates the fact that the DFA fund could just as easily underperform, especially if held in taxable accounts.  For this reason, I will gladly take the guaranteed lower cost that comes with Vanguard over the more expensive funds and adviser costs for a chance of increased performance with DFA.
All that said, Paul fully discloses his opinions and is extremely transparent on this podcast.  He is obviously extremely passionate about helping others to better their lives by sharing his wealth of investing knowledge.
Early Retirement
The Sound Investing podcast is not about early retirement at all.  However, I find it extremely inspiring to listen to it as we continue on our way to early retirement.  I originally  learned of Paul on this episode of the Radical Personal Finance Podcast.  He shared how he started his investment advisory business after retiring early from an unrelated field.  It is reassuring to see others who had the courage to walk away from potentially very lucrative careers to pursue a different path for life.  In Paul's case, it ended up in an even more lucrative and rewarding second career.
I will continue to listen to the Sound Investing podcast to further my investing knowledge.  I will also try to continue to learn the more subtle messages that Paul shares.  Once achieving financial independence, pursue the things in life that you are passionate about.  We believe that fulfillment in life comes from finding a way of sharing your skills and talents in service of others.  There is much to be learned from this podcast about investing with the bonus of getting some pretty great life lessons.
Have you gave the Sound Investing Podcast a listen?  Do you know of any other great investing podcasts?  If so, share your thoughts below?  
*Thanks for reading. If you enjoyed this content, you can find my current writing at Can I Retire Yet?. Enter your email below to join our mailing list and be alerted when new content is published.