July Update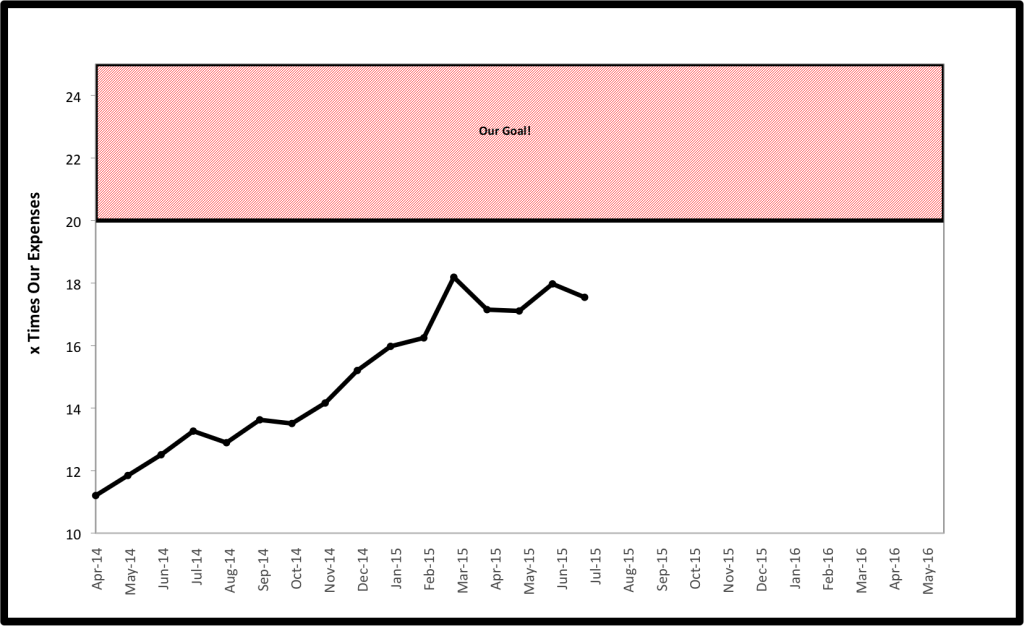 A Small Step Backward
This month we saw a drop in our investment value. At the same time our rolling monthly spending average went up by nearly $80.  This took our investments from 17.97 times our expenses down to 17.54.
Unfortunately, next month doesn't look a whole lot better.  While we never try to predict the market, we are sure spending will again be going up as we have a major renovation project going on at the house with a bill soon to follow.  Such is life.
Psychology of Investing
We saw no visible progress towards our goals this month as the value of our investments dropped by .29% despite our continued large monthly contributions.  This is the downside of monitoring your investments regularly while investing in volatile asset classes.  It is a bit painful to know that I worked a full month to contribute both full pay checks to my 401(k) and taxable investments while Mrs. EE contributed her monthly $1000 to her Simple IRA and put some money into savings.  We also received and reinvested all quarterly dividends and interest on our mutual funds this month.  At the end of the month, we have (on paper) less than we started with.
This is where understanding your investments is vital.  Since the light bulb went on in our head a few years ago as to what we were buying and why, we have been selfishly hoping for a drop in the market.  We want to buy as many shares of the funds we are invested in as possible.  (We would also benefit by paying less in capital gains taxes to sell off the expensive and tax inefficient mutual funds we bought through our advisor years ago.  Learning financial lessons isn't cheap!)
This is why I write frequently about the whole 25X number being rather arbitrary.  While in the accumulation phase, most of us in the FIRE community like to chart our progress for motivation.  Market gains and higher valuations make our charts look pretty and make us feel good.  However, lower values are actually far better for us as we want to buy as many shares as possible now.  On the flip side, we want the market to soar and stay high when we are on the spending side as we want to cash in as few shares as possible to keep our money working for us as long as possible.
As markets have been sputtering a bit recently and a correction could be coming, it is a good to remind ourselves of this.  Stay the course!
*Thanks for reading. If you enjoyed this content, you can find my current writing at Can I Retire Yet?. Enter your email below to join our mailing list and be alerted when new content is published.