August Update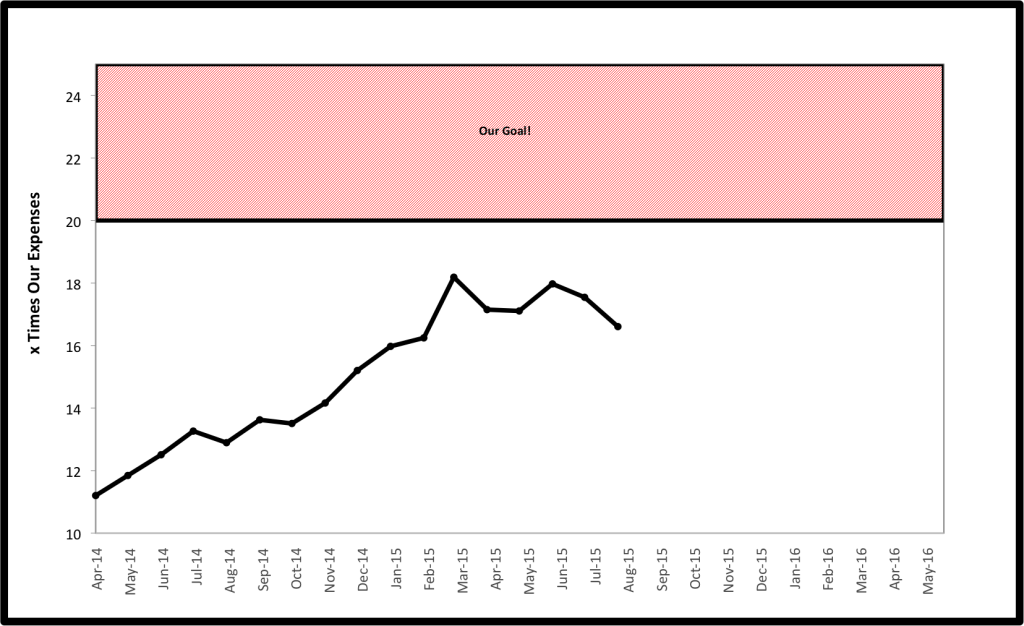 Down Again!
As anticipated, the graph isn't looking too pretty.  Monthly expenses were north of $7,000 as we continue with our major home renovation project.  We also paid our bi-annual property taxes.
We are very candid about the mistakes we have made in the areas of housing and investing.  To further illustrate our point consider the following.  Our 2015 monthly expenses average under $3,000/month if we could remove two months.  One was March when we had an emergency sump pump replacement when our basement flooded out.  That same month, we were hammered with a huge tax bill due to capital gains associated with selling off some old actively managed funds.  We also paid more capital gains taxes for the distributions for the final actively managed mutual fund that we still hold.  In July, it was all house expenses between the renovation and taxes.  In each of those months we spent over $7,000.  This pushed our average monthly expenses to over $4,000/ month.
Remember for every $1,000 monthly spending you need an extra $300,000 to support that spending in retirement, assuming a 4% rate of withdraw.  Luckily, the investment mistakes are almost completely off the books and we have plans for our home to make it an asset working for us, instead of a continued liability.  This is why we track our progress as assets as a multiple of our spending.  It keeps us motivated to track and control our spending.  It also demonstrates the impact of past decisions as they continue to rear their ugly head.
Hopefully, someone reading this will learn from our mistakes instead of making them on your own.  For more on the housing considerations Mr. Money Mustache produced an interesting post on the topic and Go Curry Cracker had one as well this past month.
Becoming a Consumer
Since I've stopped writing regular weekly blog posts, I've again become more of a consumer of personal finance content instead of a producer. Here are some things that I found particularly interesting this month.
I'm currently working my way through The Intelligent Investor: The Definitive Book on Value Investing (Revised Edition) by Benjamin Graham. It comes with an endorsement from Warren Buffet that reads, "By far the best book on investing ever written".  With that, I figured there may be a thing or two in there that I can learn.  This book has been sitting on my shelf for quite a while, and I would not recommend it as the first book to read for new investors.  It is at points technical and not beginner friendly.  That said, it is quite fascinating to see how timeless the truths found in this book, which was written in 1970, remain today.  Especially timely and encouraging as we've watched our portfolio value drop for the second consecutive month was Graham's parable of the manic-depressive Mr. Market.  Check the link if you're not familiar with the parable.
Also of interest to me this month was a blog post on one of my favorite blogs, The White Coat Investor, offering a critique of another of my favorite bloggers, Mr. Money Mustache.  As usual, WCI wrote an interesting and thought-provoking post.  I can't really disagree with any of his critiques of the MMM philosophy.  My criticism is this.  It is quite easy to pick apart anyone's philosophy in personal finance.  Many people focus on the finance, but the key is that it is personal.  Everything that works for one person will not possibly work for another person as we are all unique.  The key to reading personal finance blogs, books, etc. is to be able to see the big picture, get the take home message and then apply it to your life.  One example from our lives is biking.  MMM feels that riding a bicycle is a key feature to achieving early retirement.  I absolutely hate biking and live in one of the least bike friendly places in the country with regards to weather and infrastructure. That doesn't mean that I can't apply the overarching theme that transportation costs are huge for most people and they must be controlled to get ahead financially.  In our case, we  limit our driving, buy used cars, never finance vehicles, drive fuel-efficient cars, etc and do quite well without ever sitting on an uncomfortable bike seat.
Our friends at Our Next Life recently wrote an excellent post entitled How We Pay Ourselves First // Advice For Money-Conscious Non-Budgeters.  Since I have early retired from writing regular posts on my early retirement blog (hey I take this early retirement stuff seriously) it is nice that we have team ONL who are more or less living our parallel existence on the left-coast.  This post almost perfectly matches up to our own saving strategy and we think it is great advice.  Therefore, instead of writing our own post on the topic, let me just highly recommend readers of this blog to check them out and give it a read.
Finally, with summer finally arriving after almost continuous June rain here in the mid-Atlantic I've been doing less reading and more listening as we've been spending time in the car while getting out on some short road trips to check out some concerts and getting a belated start to our climbing season.
On the practical side, we recently listened to this Dough Roller podcast episode featuring an interview with travel hacker Scott Keyes.  I've been intrigued by the idea of travel hacking for some time since reading this Mad Fientist post on the topic.  However, we've always simply been too lazy to go through the effort and we generally choose simplicity over optimization, traditionally using a cash back reward card that paid us 1-2% back on our purchases.  With Little EE on board, we're reconsidering.  Nights in hotels with beds, shower, toilets and swimming pools are looking more appealing than sleeping in the back of cars, tents or sleeping on friends couches.  Also, any air travel is now more expensive with another butt to put into another seat.  This Dough Roller episode was really helpful to us as complete newbies to travel hacking.  After listening to it, we organized our old rewards accounts and signed up for the American Express Gold Delta SkyMiles Credit Card.  Between old accumulated rewards and the sign up bonus at least two, and maybe all three, of us will be flying for free for a tropical adventure we have planned for December.  We'll track all of the costs and post the results of our initial experiment after the trip.
On the more entertaining side, we also listened to an old Freakonomics podcast episode discussing the idea of a "No Lose Lottery".  For anyone, like us, who is appalled by American's pathetically low savings rate and interested in educating others on finance, I think you'll find this episode both fascinating and a bit discouraging of what we are up against.  The biggest take away that I got from listening to this is that there are many incentives that can be placed to encourage us to be a society of savers rather than hyper-consumers.  However, the interests in keeping people in hyper-consumer mode is far stronger and so we're facing an uphill battle.  Among those who are not interested in creating a society of savers is our own government which is supposed to represent us and protect our interests.  I would encourage you to give this podcast a listen and share whether you agree or disagree with my assessment.
Well that's enough for now, the summer is winding down and I've taken too much of your time reading this and checking out all of the links provided.  Now get out there and enjoy your summer while you continue to Eat the Financial Elephant and progress toward financial independence!
Cheers!
The Elephant Eaters
*Thanks for reading. If you enjoyed this content, you can find my current writing at Can I Retire Yet?. Enter your email below to join our mailing list and be alerted when new content is published.