September Update
Back At The Blog
It's been a while since our last post.  Since then, I've received several nice comments from regular readers as well as being contacted by some people who I didn't know were readers asking if we had given up the blog.  We have not.
Over the summer the blog was starting to take off. We were having a hard time taking care of all that goes with trying to maintain and grow it while still squeezing in all of the activities that we wanted to do. I decided to step away from writing for a bit to re-prioritize life.
Summer has been great. We've spent many days in and on the water with little EE.  Mrs. EE and I have found the time to get out of the gym and back out into nature climbing and hiking. As life has gotten back to normal, I've again got the itch to start writing so here we go.
Before we get started, I want to say that I greatly appreciate the feedback.  I guess it feels good to be missed?  It is extremely rewarding to know that people are gaining value using the blog to improve their finances and their lives.  If you haven't already done so, introduce yourself in the comments or if you're a more private person shoot us an e-mail at our contact page.  We love to know that you're reading and learning with us.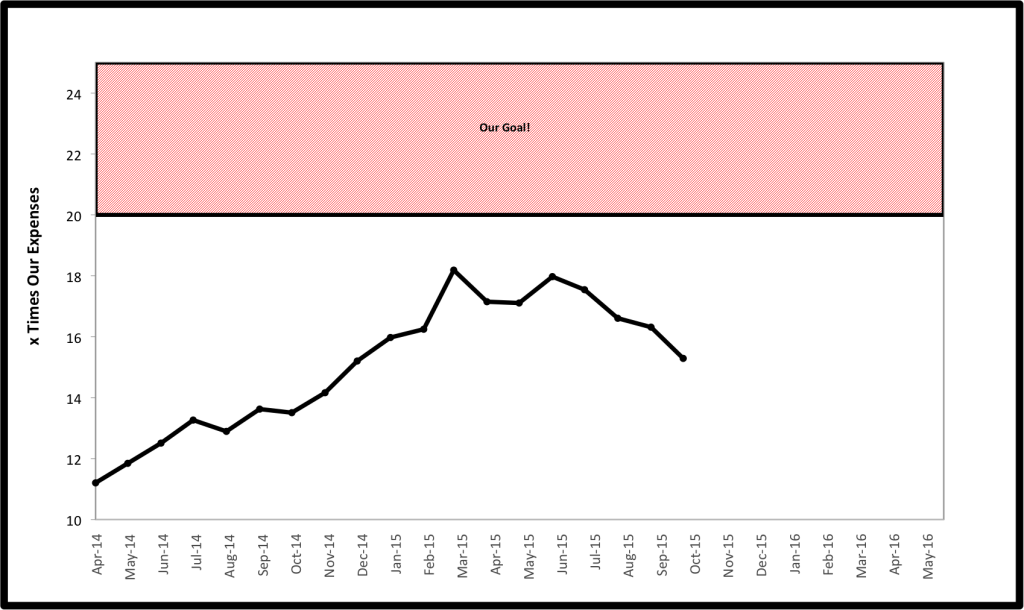 Little Progress Apparent
Due to down (and up and back down) markets, our chart continues to look worse.  Our investments are now 15.3 times our expenses as the graph continues to drift downward.
Our investment values are down around $40K since May despite continuing to pour my whole salary and a significant amount of Mrs. EE's into our accounts.
Our way of tracking spending, using a rolling 12 month average of our expenses makes things look even a bit worse.  However, much of our bloated spending has been on finishing up a major home project that should more than pay for itself in increased home value. We also payed all of our annual insurance this past month (more on that below) making the numbers look even larger.  As those numbers work themselves out and those expenses come off of the books, the numbers will look much better.
Another Big Bite!
Our blog, like many other blogs on early retirement, focuses on building wealth.  After all, to this point that is our story.
However, as we accumulate wealth we know that we need to start switching our focus from asset accumulation to asset protection.  One real threat that we face living in these litigious times is the threat of liability.  We are always hesitant to buy any insurance coverage.  We hate buying something that we most likely won't use.  We know that buying insurance is, in sum, a losing bet.  However, we also know that it is crazy to be penny wise and pound foolish.
So we decided to explore an umbrella liability policy.  The cost of about $150/year for an additional $1M of liability protection is about what we expected.  However, we were pleasantly surprised to find out that by bundling the policy with our car and homeowners insurance (which we have been too lazy to shop for the past 2 years) we could save over $500.  Therefore, in sum we added $1M liability coverage while paying in total $350 less per year for insurance than we did last year.
Two lessons learned here.
Umbrella policies can add significant financial protection at a very affordable cost.
ALWAYS shop your car and homeowner's insurance policy annually for substantial savings.
Fall Harvest?
For the first time in the couple of years since we've been managing our own finances, we have seen substantial drops in the value of some of our investments.  This presents the opportunity to do some tax loss harvesting.  As we have sat down and looked at the numbers, we question whether it is time to lock in some investment losses for tax benefits.  If you are not familiar with tax loss harvesting here are two excellent resources that will give a good introduction to the benefits and some of the rules and potential complications when carrying this out.
As we have examined our own options, we have seen substantial drops in our taxable accounts.  We decided not to take advantage of the losses in our domestic funds because they are relatively small and the would interfere with buying the same funds in my retirement account.  We did have bigger losses with our international funds and we could sell them to lock in losses of over $10,000 which would cancel out most of the gains we have taken this year on the old actively managed funds we have already sold off.  This would leave us with a smaller tax bill.  However, we're not sure it is worth the headache yet.  Here are a few issues we are dealing with.
We would have to sell off over $100k of assets to lock in about $10k loss.  This would negate taxes on $10k of other gain which is taxed at 15% saving us $1,500 real dollars on the tax bill.  While the savings is nice, that is a big shift in our investments.
When selling the investments to lock in the loss, you can't simply re-buy the same investment until waiting 30 days due to "the wash rule".  This means to get the tax benefit of the loss, we would have to sit out of the market for 31 days or shift our investments to a "substantially different" investment.
If the new investment goes down further in the next month, we could resell it and lock in even more losses and then buy back the original investment which would be ideal. However, if the investments go up in value in that month we have to have an investment option we would be happy to stick with for the long haul or be forced to take on short term capital gains taxes to sell off the new investments.
We have considered multiple options and this is what we think is best at this point.  We could shift our investment strategy from slice and dice (we currently own a European, Pacific Rim and Emerging Markets fund for the rebalancing benefits) and simplify by buying the Vanguard total international fund, which holds the same securities in one fund in different proportions.  However, this represents a shift in a substantial portion of our long term policy that we developed based on what we felt most comfortable with, for a short term $1,500 gain.
So far, we have elected to stand pat versus the complexity of making any changes to our investments.  However, we continue to watch and consider and I am curious to hear what other DIY investors are doing or have done.
As with all things we remind you that we are not investment or tax professionals.  We are discussing our own ideas for dealing with our own finances.  We would love to hear how other readers are dealing with the issues of risk management and tax management to compare notes and continue to learn.  Contribute your ideas below.
*Thanks for reading. If you enjoyed this content, you can find my current writing at Can I Retire Yet?. Enter your email below to join our mailing list and be alerted when new content is published.