Elephant Eater Visits "Bare Budget Guy"
A few months ago, I stumbled upon a post written by Mark, aka the "Bare Budget Guy", about why he tithes 10% of his income to his church and always had.  This concept was totally foreign to me, but his message resonated and I linked the article in one of my own.
He e-mailed me to thank me for the link and we started a conversation about using your money for good.  This resulted in a guest post that I'm sharing at Bare Budget Guy entitled "Get Out of Your Way".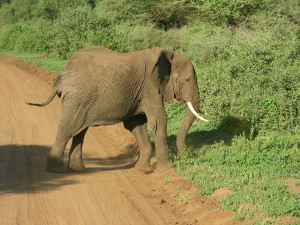 Please check it out and poke around and see what Mark and his wife Amanda are doing while you're there.  They have a great blog that I think many of my readers can relate to.  They're accomplishing some awesome things with their finances while living in a (primarily) one income household with 3.5 kids (congrats!) while maintaining a high savings rate and continuing to give away 10% of their money off the top.  Impressive!  They also are completely transparent (unlike us), sharing all of their numbers in detail for you voyeurs who are into that stuff.  I hope you enjoy and follow them!
*Thanks for reading. If you enjoyed this content, you can find my current writing at Can I Retire Yet?. Enter your email below to join our mailing list and be alerted when new content is published.