Who Challenges You?
Are You Intimidated?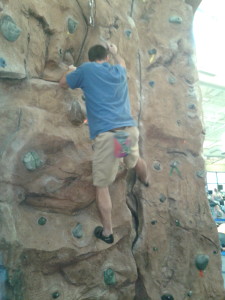 Our side hustle is to teach a rock climbing class at a local university.  The wall is only a few years old and the university is small, so there are few people there who even have a moderate interest in climbing.  I've struggled in gaining much traction in building interest and developing a local climbing community as I had hoped when starting.
One day last year I walked in and saw this kid on the wall who was absolutely amazing.  I introduced myself and we started talking.  As I got to know him, I found out he was into climbing, HARDCORE.  I've had the good fortune to climb with and learn from some really good climbers over the years.  This kid is easily in the top 2-3 people I've had the opportunity to climb with in terms of both ability and boldness.
Like a junior high girl overcome with puppy love, I began to pursue him hard.  I asked him to work for us at the wall.  I envisioned a valuable employee who could help teach the new climbers and get them interested.  He could help set new and challenging climbing routes.  A bit selfishly, I saw someone to help us become better climbers.  He accepted and has been all that was expected.
Imagine my surprise then when one of my students recently asked me, "Doesn't it intimidate you to have him working for you?"  I looked at the student puzzled for a moment and then it clicked.  He was politely telling me that this student is a much better climber than either of us.
I have always been completely aware that the kid at the gym is a far superior climber to me.  However, I don't think it ever even occurred to me that this was a bad thing or something to be intimidated about.
Part of my personality is to love to teach and help others.  I've been blessed with amazing parents and grandparents, teachers, coaches and professional and adventure mentors throughout my life.  I feel that I have a duty to pay that forward.  It is a big reason that I teach the class, mentor interns during clinical rotations in my professional practice, and write this blog.
However, I am very aware when I am the smartest person in any room and feel the need to get out of those situations pretty quickly.  I try to always surround myself with people better than me.  I am constantly seeking people and ideas to push me and better myself.  Iron sharpens iron.
Do You Want The Truth?
This rather innocent comment by my student really got me thinking.  I guess we are pretty different in going out of our way looking for ideas and people that challenge us.
We live in a society where every kid gets a trophy.  We're all equally the best.
If we're conservative we watch Fox News and if we're liberal we watch MSNBC.  We want to hear what we want to hear.  The truth is secondary.
If our politicians say something, no matter how stupid or how long ago, they will double and triple down on it.  Being a "flip-flopper" is a bad thing.  Better to be wrong consistently than to admit they don't know everything and are evolving and learning.
Very few people seek out truth.  Very few people want to really learn.  It is much easier to give the appearance that we already have all the answers than to show vulnerability.
Who and What Challenges You?
I have been drawn to the F.I.R.E. community because so many people are looking at problems and approaching life in different ways.  One of the things that I love about this community is that we as a whole are much more interested in learning, growing and finding truth, even if we expose our weaknesses and vulnerability along the way from time to time.  This community challenges me.
More than anything else we write about here from savings rates to investing to tax strategies, how we think differently is why we are all on this path to financial independence.  I think it is vital that we all continue to find people and ideas that continue to challenge us to learn and grow.
Here are some other things that currently challenge us:
We've been exploring the ideas of essentialism and minimalism.  Essentialism has challenged us to question the idea that we can do, be and have everything right now.  Minimalism has made us question what we really want and what is important.  While we are not yet essentialists or minimalists by any means, exploring these philosophies is making us much more appreciative of where we are and what we already have.
Being good parents.  We find that we are constantly struggling to find the right balance of providing our daughter with the attention and love that she needs and desires, while finding time to maintain and achieve other things that we value.  We also both are getting a crash course in patience, which neither of us have in great supply.  Trying to be good parents is our top priority in life at this point, but it definitely requires constant effort and learning.
We've been exploring our faith from a fresh place, trying to dissociate all of the negatives we've associated with religion in the past.  We're trying to read and discuss one chapter of the bible daily.  This document is thousands of years old and from a culture completely different from the one we live in.  However, the stories and lessons within contain great truth that remains relevant in this day and age.  It has exposed how little we as society learn and change over many generations.
We've been working on radically changing Mrs. EE's diet, exercise routine and general perception of what healthy has been for her entire adult life in response to some recent medical symptoms.  This is a great challenge for her as she is drastically changing many habits, routines and beliefs she has maintained for a long time.  This is also a challenge for me as I try to balance my roles of husband and health care professional as I try to support and help her on the path.
After hearing people talking about giving things up for lent, I am currently challenging myself to not complain or say anything negative at  or about work for the next 40 days.  I'm trying to address my recently growing frustration and dissatisfaction with my job and develop a more positive attitude.
We regularly listen to The Tim Ferris Podcast where he interviews people who are extremely successful in many areas of life.  We try to learn not only from what makes others successful, but also what trade-offs are involved and where these people struggle.  I also enjoy listening to TED talks and Freakonomics podcasts for new and interesting ideas and unique perspectives on the world.
We have been having lengthy discussions about the first few years of our early retirement.  What do we really want our lives to look like?  Where do we want to live?  Do we want to continue to work?  How much?  Doing what?  What do we want for our child?
We're curious to hear what and who challenge you?  Do you agree that this desire to push, challenge and improve yourself is a key personality trait to achieving financial independence and early retirement?  Share your thoughts.
*Thanks for reading. If you enjoyed this content, you can find my current writing at Can I Retire Yet?. Enter your email below to join our mailing list and be alerted when new content is published.