September Update//The Transition To Our F.I.R.E. Plan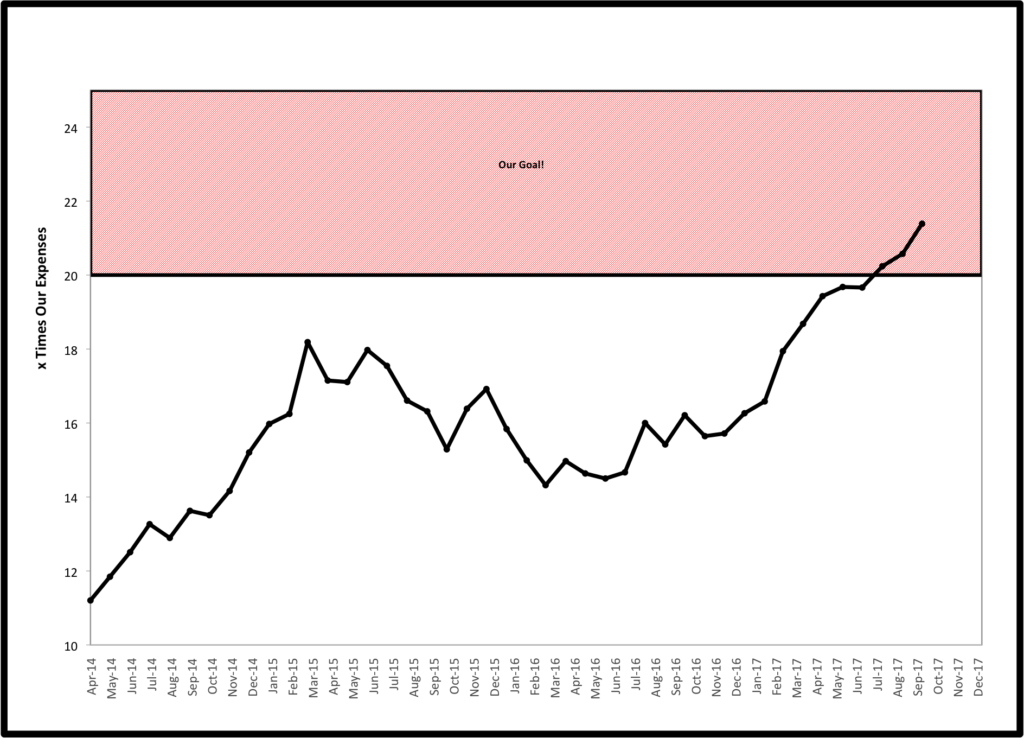 Our numbers again are looking very good. Our assets as a multiple of our expenses jumped from 20.6x to 21.4x in just the past month.
On the asset side, we are up 1.8% for the month, due to several factors. We continue to see strong performances from most asset classes in our portfolio. I also am contributing a bit more to my 401(k) over the last quarter of the year to max it out for 2017 before leaving my job at the end of November. We are also starting to see the benefits of being landlords. We now have renters in our Utah home and are collecting rent checks every month.
On the spending side, our expenses dropped by 2.1% compared to last September. This was not due to any particular frugality on our part, but rather the fact that we did two trips last September which came off the books. This September, I took every Friday off and we have been staying local to hike and rock climb.
The last two Friday mornings of the month, I have had some exciting meetings to try to put in place a plan for the first few months of the next phase of our transition to F.I.R.E.
Clarifying Definitions
For the sake of clarity, I want to take a minute to define where we are in our transition into F.I.R.E. As I wrote in a recent post at Can I Retire Yet?, we are "redefining retirement" to meet our family's wants and needs.
Technically, we began this transition 5 years ago after the birth of our daughter. My wife was planning to return to full-time work after 4-6 weeks of maternity leave. She decided to use the power of F-you money, as she turned her 4-6 weeks into 12 weeks, which in time turned into forever as she decided she was done with 40 hour workweeks. She negotiated that she would return only if she was allowed to return to part-time work and work from home part of the time.
Then her current employers reached out to her with an offer to work from home all the time, be location independent, and receive a small pay increase all to do a job more in line with her interests. She was very excited. However, she agreed to take the position only with the stipulation that she would be allowed to remain limited to working 30 hours/week. She remains very happy with this basic arrangement, particularly as it is allowing us to delay drawing down our investments while getting medical insurance through her employer.
As I write about the next phase of our F.I.R.E. plan, I am referring to me leaving full-time practice as a physical therapist (PT). While I do not plan to continue on in any particular job as my wife is, I also do not plan on anything that looks like a traditional definition of retirement where you plan to never work again.
As I have shared here as our plans have evolved, I am interested in many things which may make money. They include doing occasional part-time or seasonal (travel) PT work, doing PT work in a non-traditional setting such as working with disabled athletes in outdoor/adventure programs, developing my writing interests, building an online business, doing personalized financial coaching, and becoming a real estate investor.
I have written before that I tend to be a donkey, trying to go in too many directions at one time. I was beginning to see this happen as I prepared to leave my job. I was developing many potential future directions, but no clear plan of action on what I want to focus on next.
As written about in this recent NY Times article, I again am realizing that maybe I need a little less balance and a little more focus.
What's Next
I have had some promising meetings over the past few weeks as noted above. My wife and I have been having some long conversations and are reaching a comfort level in what this next phase of life will look like. However, I am not ready to share any definite plans yet as there are still a lot of moving parts.
At the end of October, I will attend my first FinCon conference in Dallas, where these preliminary talks will continue. If things go well, I will have a solid vision for where I will focus my attention for the next 6-8 months between leaving my PT job and making the cross country move next summer.
Getting Back to Basics
With everything going on behind the scenes, my writing here has been sporadic and more rare than I would like. I am still doing some occasion freelance writing at Doughroller.net. We published the most recent installment of the case study of my coaching experiment with a Doughroller reader, Andrew. He was looking to take control of his finances, become a DIY investor, and build wealth. In this segment, we discussed overcoming the overwhelm of sorting through information overload a new investor faces.
I have received excellent feedback from Andrew and am witnessing great results. However, I have found condensing down all of the information from our sessions and writing about them in a way that would be interesting and useful for a general audience has been more challenging than I anticipated.
I would love if readers that are currently dealing with this overwhelm, or who have overcome it, when taking control of your finances would click over to the article and give it a read. I would then appreciate feedback on whether the information was useful. If not, where I could improve upon it to help other new investors?
Thank you to everyone who continues to follow along on our journey! Leave us a comment below to share your thoughts on our transition, becoming a DIY investor, or any exciting progress on your own journey to FIRE.
*Thanks for reading. If you enjoyed this content, you can find my current writing at <a href="https://www.caniretireyet.com/">Can I Retire Yet?</a>. Enter your email below to join our mailing list and be alerted when new content is published.
<div style="border: 1px solid; padding: 5px 5px 5px 10px; background-color: #ebebeb; margin-bottom: 10px;"><form class="af-form-wrapper" accept-charset="iso-8859-1″ action="http://www.aweber.com/scripts/addlead.pl" method="post" target="_new">
<div style="display: none;">
<input name="meta_web_form_id" type="hidden" value="1219010613″ />
<input name="meta_split_id" type="hidden" value="" />
<input name="listname" type="hidden" value="ciry-news" />
<input id="redirect_f0919f4d413ade00d2cb45ec14849141″ name="redirect" type="hidden" value="http://www.aweber.com/thankyou-coi.htm?m=text" />
<input name="meta_adtracking" type="hidden" value="CIRY_Top" />
<input name="meta_message" type="hidden" value="1″ />
<input name="meta_required" type="hidden" value="email" />
<input name="meta_tooltip" type="hidden" value="" />
</div>
<div id="af-form-1219010613″ class="af-form">
<div id="af-body-1219010613″>
<div><strong>New Reader?</strong> Get free regular updates from <em>Can I Retire Yet?</em> on saving, investing, retiring, and retirement income. New articles about 2-4 times/month. Join more than 17,000 subscribers. Unsubscribe at any time:</div>
<div style="width: 300px; margin-left: auto; margin-right: auto;">
<div style="float: left;">
<input id="awf_field-68718655″ class="text" style="width: 200px; color: #909090; background: #ffffff; border: solid 1px #909090; padding: 5px 7px 5px 7px;" tabindex="500″ name="email" type="text" value="Enter your email…" />
</div>
<div style="float: left;">
<input id="af-submit-image-1219010613″ class="submit" style="background: #565b62; border: none; padding: 5px 7px 5px 7px;" tabindex="501″ alt="Submit Form" name="submit" type="submit" value="SIGN UP" />
</div>
<div style="clear: both;"></div>
</div>
</div>
</div>
<div style="display: none;"><img src="http://forms.aweber.com/form/displays.htm?id=jEyMnAyMDGyMzA==" alt="" /></div>
</form></div>