Why We're Happy We Didn't Achieve Our Goal
As 2017 rolls in, many people talk of resolutions and goals for the new year. There is also a lot of reflection on the year that was.
Our primary goal when starting this blog was achieving financial independence and retiring early. We defined this as achieving assets valued at 20-25X our annual spending by May 2017.
We spent the past year saving over 60% of our after tax incomes and experienced good investment performance. This increased our net worth approximately $200,000 over the past 12 months. However, our annual spending also increased in 2016, approximately $10,000 compared to the year before. Factor it all in and we actually took a small step backward with our assets/annual spending dropping from 16.9 at the end of 2015 to 16.3 at the end of 2016.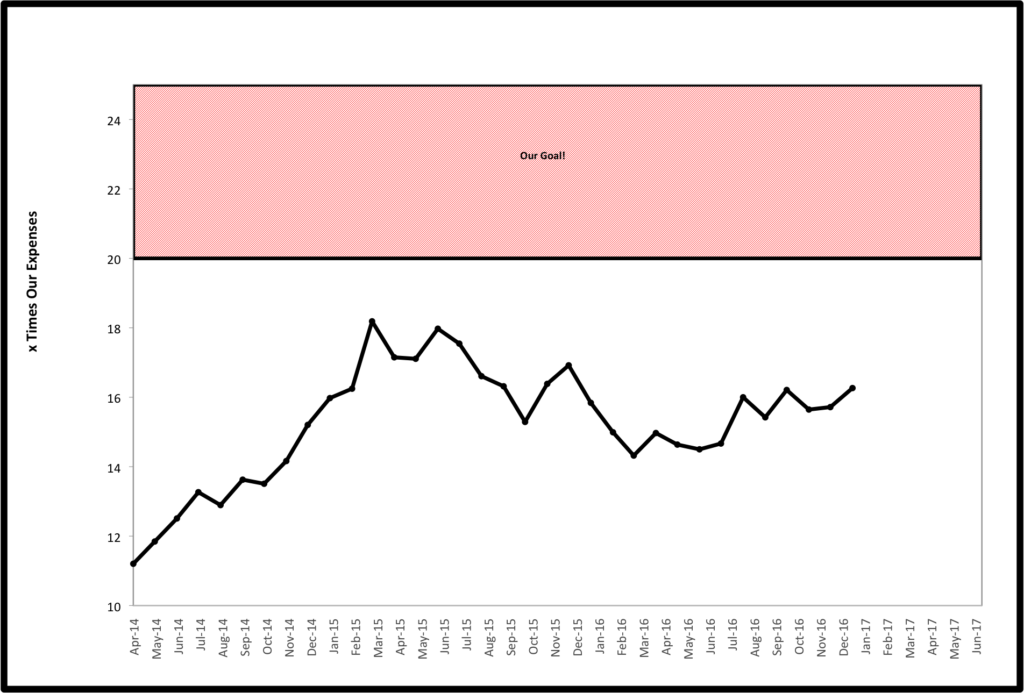 After reflecting on our numbers, we've come to the conclusion…
We're Happy to Not Reach Our Goal!
Don't get me wrong, we would love to have abundant wealth and never have to worry about money at all. We certainly will continue to work towards financial independence. We will work toward achieving true financial abundance where we can not only maintain our spending without having to worry about working to earn more money, but increase spending if we choose.
Technically, we are not happy that we have lost ground towards our goal. However, we are much happier right now than we were a year ago at this time. I was having a hard time putting into words why this is until I recently read the following quote:
"Failing to achieve your goal can mean achieving your real goals."
I recently read the Tony Robbins book "Awaken the Giant Within". As I was pondering where we currently stand and where we are going, the above quote really resonated with me.
He had another key concept in the book that resonated. The quality of the questions that we ask determines the quality of our life. To expand on that concept, the quality of our goals is dependent on striving for and measuring the correct things.
Confusing Ends and Means
When setting out on the path to FIRE, Mrs EE and I mutually agreed that we crave more time. Time to deepen our faith, develop our relationship, raise our daughter, improve our health, and have time for friends, family, and hobbies. All of these things caused us to seek FIRE, with a goal of hitting a number as quickly as possible.
However, all along FIRE has simply been a means to these ends. As we became focused on hitting a number, we were finding ourselves to be less happy people.
Now that we have learned to differentiate ends and means, we are much more on the same page. This has led us to be happier and more at peace.
Mrs. EE and I are at very different places in our professional lives. We also have very different views on money, based on the family situations in which we were raised. We have talked and worked together long and hard over the past year to reach common ground on what would meet both of our needs and wants. We now realize that these are our "real goals" that will allow us to achieve our ends, even if the means are a bit different than we anticipated when setting our original financial independence day, focused on retiring early.
Our Jobs
I am very burnt out on my job and career. I have been in the same job for about 13 years and everything is stale. FIRE is very appealing to me.
I need a drastic change, but improving my situation by simply changing jobs is highly unlikely. My workplace, like any, has things I wish were different. However, I am compensated well, have great autonomy, take 4-5 weeks of vacation each year, and have built great relationships with clients and referral sources in my community. I would never have that, or would take years rebuilding it, if starting from scratch somewhere else. In fact, I would be hard pressed to find much better working conditions than I have.
In spite of all of that, there are many things that I can not stand about my job/career. These include a general disgust with our fee-for-service healthcare system with grossly misplaced incentives that effectively punishes efficiency and effectiveness, seemingly never ending increase in bureaucracy and paperwork, the infinite need to trade time for money, and work around others' schedules. These will be present wherever I go in my current career, and could definitely be far worse.
Mrs. EE is in a totally different place. She is incredibly happy in her job. She works from home for a company that is extremely family friendly. She is location independent. She is able to support our family on her part-time income, even while maxing out her 401(k) (which by the way is excellent). Her employer will cover our family on their healthcare plan, even at her part-time status. Her work challenges and stimulates her.
She does not want to quit her job. FI is very appealing to her, early retirement is not at this point in time. The idea of having to retire to stick with our plan actually stressed her out more than work.
Our Money Philosophy
I grew up in a entrepreneurial family. I know what it is to live in a house where things are not predictable financially and have seen it work just fine. I am very optimistic in our ability to be resourceful and flexible as needed.
Mrs. EE grew up in a family where things were often very tight financially and she has seen how hard things can be without a regular income. Though she knows we are resourceful and good with money, she craves the stability and comfort of our current lifestyle.
We both agree that we have no desire to live our lives around a set budget. We have always been very good at living below our means, even when starting out making very little money. However, we also like having the ability to do the things that we want on our terms. This includes being able to travel when and where we want, planning our diet around health and enjoyment rather than budget, and being able to give freely when and where we choose.
Achieving Our True Goals
Our "ultra-safe early retirement plan" (which FYI is very similar to what this recent NY Times article refered to as the "Retire Never Option") that we have been developing and fine tuning over the past year is working towards achieving our true desired ends. We'll share what exactly that will look like as things unfold over the first half of the year. For now, I can tell you it means living a truly balanced and fulfilling life filled with love, adventure, security, and abundance starting now, rather than starting when some magical number that tells us that we are FI or on a date when we decide to retire.
Did you reflect on the past year? What goals did you reach (or not reach) in the past year? Are you working towards the right goals or are your goals and plans evolving as you learn and grow? We'd love to discuss it all in the comments below.

*Thanks for reading. If you enjoyed this content, you can find my current writing at Can I Retire Yet?. Enter your email below to join our mailing list and be alerted when new content is published.